ConsoleCrunch Official Site
Following the releases of PS4Hen, Dumper and FTP payloads for 4.55. The talented developers Vultra and ValentinBreiz have recently updated the Linux Loader Payload that was originally released by the fail0verflow team to now work on 4.55. However it isn't all good news yet, as it only works on PS4 Phat models at the moment but ValentinBreiz is currently working on getting video output working for newer PS4 models. There will be a list down below on all the PS4 models that currently work with Linux on 4.55.
To install Linux you'll need a FAT32 Formatted USB plugged into any USB slot on the PS4 with both
bzImage
and
initramfs.cpio.gz.
on the root of the USB. After you have the correct files on the root and have plugged the USB into the PS4, send the PS4-Linux-Loader.bin to the PS4 via a Payload Sender. Please make sure you have one of the following PS4 models below for this to work;
CUH-1102A

CUH-1115A

CUH-1116A...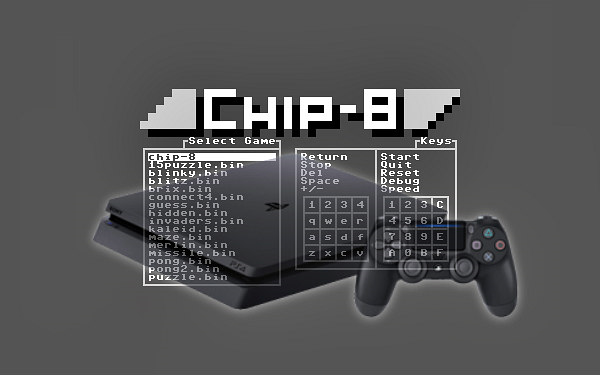 ​
Following the previous releases of the SNES and fMSX Emulator port Darbness brings us his Proof-of-Concept CHIP 8 Emulator for the PS4 currently on 4.05. However while this is great news for the Homebrew scene on the PS4, in its current state it has no sound nor input but it definitely shows what's currently on the Developers agendas and what can be created for the PS4 following the recent PKG game dump installation method.
To install the CHIP 8 pkg you need to use PS4HEN and the link for the PKG can be found
Please Login or register to view links or Console ID's
Thanks for reading this article, maybe short but definitely a show in the progress of PS4 homebrew, that's all from me, don't forget to say HI in the chat too!!
Credits: Darbness
Announcement: To anyone interested I am currently recruiting 1 News Writer to help with posting up to date PlayStation News, Anyone interested send me a PM and we will go...
Just a thought that every Friday or Saturday a few members from CC all play together for a few hours, a game would be picked by a vote and then members can sign up via a thread every week?
With the ever growing community of PS4 Modding, oct0xor brings us the first PS4 Registry Editor which allows us to view the files using a simple tool that he made by reverse-engineering the Registry itself. In its current state you can view the following files;
/system_data/settings/system.nvs

/system_data/settings/system.dat

/system_data/settings/system.idx

/user/settings/system.eap

/system_data/settings/system.rec
However system.nvs isn't supported due to the fact its stored in a kernel like view so parsing it would be entirely dependant on they system version but it has the exact same entries as system.rec. Due to the 5.01 update system.rec implemented a new layer of encryption so the tool currently doesn't feature the ability to add new entries or rebuild the registry as of yet.
Within the registry the most important files are system.dat and system.idx with system.dat containing information on entries data and system.dat containing information...
From the creator of VITAident brings a brand new homebrew app used for backing up and restoring any important files on your Vita. The homebrew app makes life a whole lot easier when it comes to backing up your files either just as a precaution or if you are changing to switching over to another Vita System. Currently a work in progress the homebrew is definitely one of the more useful homebrews available for the Vita, due to it being a work in progress you can only backup to 2 locations with those being ux0 and ur0 however FTP/USB Is being planned for the future. For people wanting to know where your backups are stored they go to the following location depending on where you want to backup to:

ux0/Data/VitaBackups/Backups
ur0/Data/VitaBackups/Backups

Also another thing to mention is the UI and how great and easy it is to use, there are no combinations just a simple press of a few buttons and your on your way. While joel16 has developed the app the design and inspiration for it...
​
Today we receive an email from the CyberGadget team informing us of two new products for the PS4 and the 2DS/3DS.
First the PS4 version is called "
CYBER Save Editor for PS4
" is a cheat software for PS4 saves that allows gamers to amass gold, hike status, or level up their characters, saving time from having to grind and thus optimizing their gameplay. Unlike the first edition of Save Editor, which costs less but only supports 20 game titles, this latest edition supports over 550 titles.
and the 2DS/3DS
"
CYBER Code Freak for 2DS/3DS
" is a cheat device (with physical components) for 2DS and 3DS. This one has more advanced functions than Save Editor as it allows gamers to directly create their own codes and adjust game parameters.
Both these products are scheduled for release by the end of February 2018 and the prices will be around $69.99
If you got any questions I could forward them on.
Welcome Fellow Crunchers !!!
TODAY I AM DOING A GIVEAWAY FOR ONE OF MY PRIVATE CONSOLE IDS (ONLY EVER USED BY 1 CONSOLE !!)
HOW TO ENTER:
-REPLY TO THIS THREAD WITH YOUR GAMERTAG
-LEAVE A LIKE (OPTIONAL)
HOW TO BE
DISQUALIFIED:
-FAILURE TO CLAIM THE PRIZE WITHIN 24 HRS
-FAILURE TO COMPLY WITH THE RULES (DOUBLE ENTRYS)
THIS CONTEST RUNS FROM
DEC 23RD 11:30 AM EST
TO
JAN 1ST /2018 6:00 PM EST
GOOD LUCK TO ALL , THE WINNER WITH BE CHOSEN USING A TRUE RANDOM NAME SELECTOR
-- KUSH PLANT 420
Since its nearly Christmas Im giving away a private cid+psid all you need to do to enter is comment a number below between 1-500 and i will pick a winner on 5/1/2018 (1/5/2018 if you're american) good luck everyone
After proposing the update v1.01 of the standard version of CFW Ferrox 4.82, here is that Alexander has updated the Cobra version. As always, it remains a reference, but there a small grain of sand has crept into the way this release was made.
Yesterday evening appeared this version CFW Ferrox 4.82 v1.01 Cobra 7.55, but there is not something that shocks you well before talking about the features.
Cobra 7.55?
Yes you read correctly, Cobra 7.55, this is not our eagerness to go to Joonie's side to see what this patch changes.
Joony distributed a few days ago a corrected version of the patch to a few people, the Cobra 7.54 coming to him already correct a bug of game updates and installation with the syscalls disabled.
"COBRA 7.54 - Fixed Bug in the setup of game updates with disabled Syscalls - Credits to Alexander, Aldostools, Joonie"
But Aldostools and Joonie say they do not know this "COBRA 7.55" which probably has to fix one or...