Avid Poster
CC Dev Team
Determined Poster
Active Member
Jul 13, 2016
1,040
575
198
The developer DarkStation, to whom we owe in particular the evolution in Rev.6 of PS3 ControlConsole API (CCAPI) v2.70, comes back to offer us an unofficial update of CCCheater for CFW 4.81.
For the occasion, it renamed the tool in CCCheaterX, it was based on all the work carried out by Barthen, explaining that it evolves the software by adding the display of the temperature, the version Console, and notification on the console when you log on.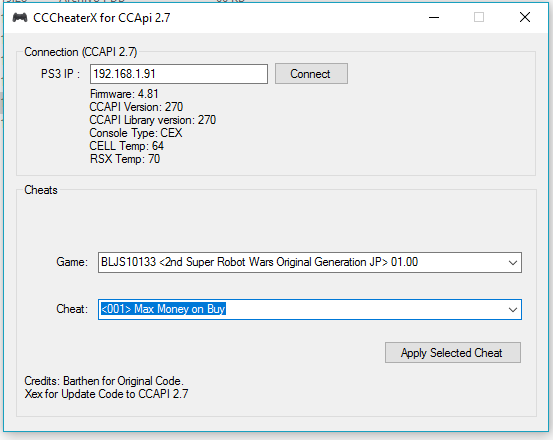 CCCheater is an application that allows you to use real-time cheat codes with only four clicks.
Of course all thanks go to Barthen and the creator of CCAPI who left the documentation to implement new versions.
You need .NET Framework 4.5, CCAPI on a PS3 with 4.81 installed and CCCheaterX. You also need a text file with CheatsDB.ps3cheat.
WARNINGS
---------------------------
- CCAPI is not compatible with Cobra firmwares
- The initial version only supports cheat codes coded in 00002000 (to write 32-bit values in the memory)
- Cheat codes must be applied on the initial screen of the game, or on the pause to avoid crashing.
Download
Leave a comment to see the link
SCANhttps://
www.virustotal.com/en/file/84730ec3659a4c5c57257c4f8a408edd63fd474572979518eb8bcaeb86fb01d2/analysis/1492628704/