Active Poster
Active Member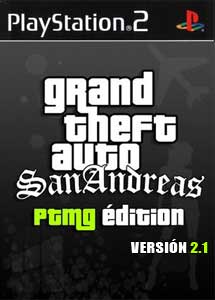 I COULD ONLY FIND THE SPANISH VERSION *SORRY*
Download the game of Grand theft auto San Andreas PTMG Edition version 2.1 in Spanish GTA San Andreas PTMG Edition v2.1 for the PlayStation 2 console in ISO format by MediaFire.
INFORMATION
Grand theft auto San Andreas PTMG edition, is a mod of French origin which basically allows you to do everything you can think of. Version 2.1, has as an innovation, the integration of super CJ, which can fly freely. Unlike the Vegeta mod version, this if it has a menu of tricks, that you can activate in the following way. Up + R1 or L1 + L2 + R1 + R2 at the same time for a few seconds. The first time the cheat menu is activated, a sequence of images with French text will appear, in which you must wait a few seconds, then the cheat menu will be ready to use. It is important to mention that the innovations of this version were not translated, so when entering the cheat menu, some empty spaces will be seen, which can be solved by selecting the French language.
This mod is not compatible with previously saved games, either from the original game, or from an earlier version. These are some features that this mod includes.
You can change the graphic interface of the game.
Fly with CJ, (turn him into superman).
Never fall from the bikes.
Prevent vehicles from suffering damage when crashing.
It also includes the mod Hot coffe (Having relations with Denise).
Teleport anywhere in a second.
Increase the speed of the cars to reach 1,000 km / h. and a lot of other things, it's a matter of exploring it of your own volition.
Part 1
[HIDE]http://www.mediafire.com/file/1qchh522w0h24di/GTA+San+Andreas+PTMG+Edition+v2.1+%5BPAL%5D+%5BEs%2CFr%2CDe%2CEn%2CIt%5D.part1.rar[/HIDE]

Part 2
[hide]http://www.mediafire.com/file/l35an14aysw2va7/GTA+San+Andreas+PTMG+Edition+v2.1+%5BPAL%5D+%5BEs%2CFr%2CDe%2CEn%2CIt%5D.part2.rar[/hide]