Super Moderator
Staff member
Moderator
Community Elite
Community Veteran
Determined Poster
Active Member
Console ID Poster
May 26, 2014
1,526
1,633
418
Hello Crunchers! I'm glad to announce we are looking for 2 more news writers.
What does a writer do? Writers are the sole operators of our site. They are responsible for ensuring qualitative content reaches the Homepage. So our members and visitors will be up to date on that latest gaming news.
Requirements
:
Contain the ability to excellently demonstrate a well-tuned usage of the English vocabulary at minimum.
Have the ability to construct sentences with no major grammar errors.
Withhold, at minimum, a basic understanding of the gaming and electronic industry.
Willing to write once every 2 weeks.
Contain a required and vital essence of respect and trustworthiness.
When submitting your application

:

Please create a thread under

writer applications

. The article must be original and gaming related. When your thread is posted please tag me and Younis. If the article is plagiarized we will ignore it and remove it.

Benefits

:
Nice shiny golden name that will stand out.
You will also receive a tag that will tell members you're a news writer.
Example: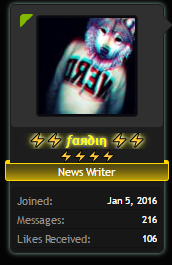 Last edited: